At long last, a continuation in my children's book series. To recap: this series is divided into five parts consisting of 6 posts.

Part One talked about strategies for using your local library to find quality children's books.
Part Two (A) discussed several design fundamentals that contribute to superb illustration in picture books.
Part Two (B) (this post) will talk about several more design fundamentals that contribute to superb illustration in picture books.
Part Three will explore language and literary techniques used in quality writing for children.
Part Four will provide a genre summary and list recommended titles in each genre.
Part Five will list 100 excellent author/illustrators for children with either links or a brief overview of their works/style.

A repeat of my copyright caveat: I use a lot of pictures in this post most of which are copyright protected. I did not scan any images into my computer nor upload them. I am simply drawing in images from elsewhere on the web. My purpose in doing so is solely to promote the books depicted. I have not used images from books I do not recommend. I also do not derive any income (monetary or goods and services from my writing); as such I am in no way profiting from the intellectual property of others. Having said all of that, I will remove all embedded images except for book covers from this post and replace them with external links in 7 days time. In the interim, should I receive any requests from copyright holders to remove images from this post, I will do so immediately.

And now, to pick up where we left off...

You may recall that I am relying on The On-line Visual Literacy Project at Ponoma College for my terms of reference in defining the 11 basic design components of all visual communication. I have grouped these components into 4 broad categories.
The building blocks (dot, line, shape, and texture) (the subject of my last post in this series)
Movement (motion and direction)
Colour (hue, value, and saturation), and
Perspective (scale and dimension)

The rest of today's post will look at movement, colour, and perspective.


From utter stillness, motion emerges:

Image Link (note: I've added the external links to the images just in case you want to see a larger version of any of them.)

Rob Gonsalves holds stillness and motion in tandem in this surreal illustration featured in Imagine a Night (2003). His paintings have been pulled together in three separate picture books, Imagine a Night, Imagine a Day, and Imagine a Place, all with text provided by Sarah L. Thomson. The text doesn't shine so well as the illustrations but the books are stunning eye candy for all ages.

Picture book artists create motion on a fixed, 2-dimensional plane by using using multiple techniques, and, unlike the Gonsalves illustration would you have you believe, the motion created is, most often, pure silly fun.

Image Link

David Shannon's title character from No David! (1998) makes a mad dash from his bath. The oversized sidewalk seems to spit him out, limbs extended and body soaring skyward.



Image Link

Barry Moser's rabbit leaps above the title of this book: Jump!: The Adventures of Brer Rabbit by Joel Chandler Harris, Van Dyke Parks, Malcolm Jones (1986). The torn blue backdrop that is slightly akimbo reinforces the motion suggested by the image.


Image Link

Moser again on the cover of Margie Palanti's Earthquack! (2002). Even the letters in the title are subject to seismic upheaval.




Image Link

Lane Smith's retro, space-age tumble into the abyss on the cover of Scieszka's Math Curse (1995).

And now, a few motion-centric illustrations that bring me joy:


Candace Fleming's Smile Lily, 2004 Image Link


Helen Cooper's continuation of the Pumpkin Soup story, Delicious, 2007.

Me and My Sister, Ruth Ohi, 2005.


Linda Bailey's Stanley's Party illustrated by Bill Slavin, 2003.

One of my favourite object lessons in motion could not be found on the web but I'm sure most of you will be able to picture the image immediately if I simply type the words, "LET ME DRIVE THE BUS!!!!!!"

While motion suggests movement on the page, direction prompts the movement of your eye over the page.


Image Link

In this illustration from Barbara Reid's Sing a Song of Mother Goose (1987), Jack and Jill are pure motion; their tumble down the hill, though, directs the reader's eye straight to the page turn, for one does not linger in the verbally tripping land of the nursery rhyme.



Image Link

Harold's policeman also points to the page turn with his arm and his eyes. (Harold and the Purple Crayon by Crockett Johnson, 1955) In the illustration from No David! above, the sidewalk forces our eyes to follow David's streak to freedom.



Image Link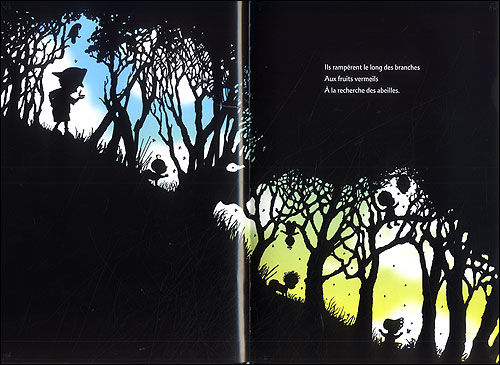 Image Link

Peggy Rathmann's heroic quest, The Day the Babies Crawled Away (2003), features a driving, rhyming cadence that is accompanied by illustrations that move the reader's eye from top corner left to bottom corner right. As such, the story tumbles along until the pattern stops abruptly when our hero and his infant charges get trapped at the bottom of a cliff. At this point in the story, the black frame of the page surrounds them on three sides, effectively holding them captive. Sadly, I could not find an image online to show the trapped scene, but I think you can imagine what I mean.


Image Link

Anthony Browne's Willy is a nose-in-the book sort of fellow. No so, his friend Hugh, who attracts the annoyed stares of the other library patrons. The entire meaning of this illustration from Willy and Hugh (1991) is told by following the direction of the eyes. You may need to follow the image link to get the full effect of this one.


And finally, here's one more marriage of motion (the font, the girl with arms uplifted) and direction (the buildings) acting in harmony. Robert Neubecker's Wow! City! (2004)


Colour has become a dominant design principle in illustrated books for children over the last several decades. Classics, such as Johnson's Harold books and McCloskey's Make Way For Ducklings or Blueberries for Sal, however, are evidence that illustration can be divine on a monochromatic scale.




From Blueberries for Sal (1948) Image Link

Other books, such as Richard McGuire's Orange Book (1992), which uses only the complementary colours of orange and blue, or Cathy Stinson's Red is Best (1982), which emphasizes the narrator's preferred colour, or the wordless picture book Yellow Umbrella (2001) by Jae Soo Liu deal in the essence of hue.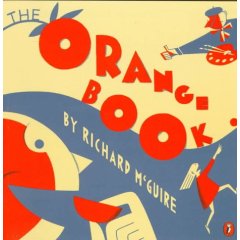 Hue is plucked straight from the colour wheel and comes in the infinite combinations of those three primary colours: red, blue and yellow.


Bob Staake's The Red Lemon (2006)


from Fish Eyes: A Book You Can Count On by Lois Ehlert (1990) Image Link

A picture can comprise mainly warm hues:


a cross-section of the old white cabin in Delicious by Helen Cooper (2007) Image Link

Or cool hues:


From Rob Gonsalves' Imagine a Place (2008) Image Link

Sometimes the lifeblood of the image is a pocket of warm colour lying in a sea or sky of cool:


Marie-Louise Gay's Stella: Star of the Sea (English language version) (1999)


Christopher Myers' Wings (2000)

Value refers to the amount of light or dark in an image and the interplay between them.


From Peggy Rathmann's The Day the Babies Crawled Away (2003) Image Link


From Creation by Gerald McDermott (2003) Image Link

Whereas Beatrix Potter uses value to show the warmth of the hearth in winter,



Chris Van Allsburg plays with value to eerie effect in The Mysteries of Harris Burdick (1984), a suggestive, imaginative picture book for elementary aged children.


Image Link


Image Link

Ed Young's mice sparkle against their black backdrop in Seven Blind Mice (1992), and


Image Link

Ted Harrison's depiction of the Aurora Borealis feels like stained glass, so filled with light are his colours. From O Canada (1992).

Saturation deals with the amount of grey that influences a colour.

Image Link

In Janell Canon's Stellaluna (1993), the contrast of the bats who lack colour saturation with the highly saturated night sky provide maximum visual impact. The resulting ultra-realism emphasizes the vulnerability of the bats, creatures that the reader may not normally sympathize with.


Image Link

In Knuffle Bunny (2004), Mo Willems splashes highlights of mid-saturated colours over top of black and white photo stills of a Brooklyn neighborhood to add a family atmosphere to the city backdrop. His illustrations often look like animation stills.

The use of water colours produces a canvas of lightly saturated colours.


Image Link

In many books, and Barbara McClintock's Dahlia (2002) is a fine example here, such illustrations have a rural or old-fashioned feel to them, no doubt because they hearken back to the 19th and early 20th styles of early masters in the genre:



Randolph Caldecott Image Link



Kate Greenaway Image Link



Leslie Brooke Image Link



and Beatrix Potter Image Link

And then there is Norton Juster's Hello, Goodbye Window, illustrated by Chris Raschka, that conjures up a rustic nostalgia by using mid-saturated, high value colours.

Image Link

If you want to see what Rashka has to say about his approach to illustrating this book, read the engaging caption he put on one of his pictures that was reproduced for the New York Times.

Raschka uses a similar style for a cover of the Horn Book Magazine. Deelish.



Highly saturated colours often, but not always, suggest an urban or contemporary setting, partly because contemporary printing technology allows for the mass reproduction of rich colours.


Here is Raschka again with Yo! Yes? (1993)


Vera B. Williams' A Chair for My Mother (1982). Image Link

Then there's the tropical feel of Dayal Kaur Khalsa' My Family Vacation (1988):


Highly saturated colours also feature prominently in many folk tales. Different colour combinations can be suggestive of different cultures or ethnicities:


Leo and Diane Dillon's Why Mosquitoes Buzz in People's Ears: A West African Tale (1975)


Ricardo Keens-Douglas' The Nutmeg Princess; illustrated by Annouchka Galouchko (1992) (a folk tale from Grenada)


Gerald McDermott's Raven: A Trickster Tale From the Pacific Northwest (1993).

Phew. Colour dang near killed me. I hope you're still with me. We're coming down the home stretch.

Last but not least, we come to perspective and the two visual techniques that help to determine it: dimension and scale.

Dimension refers to the level at which a reader's eye encounters an image. Are we viewing the scene from on high? Are we looking up from the ground? Or are we meeting the image at eye level?

Molly Bang's When Sophie Gets Angry--Really, Really Angry (1999), shows the child reader what a temper tantrum looks like from a child's eye view.


Image Link

When Sophie explodes, the dimension is eye level. When Sophie runs away and feels very small, the reader sees her as a speck on the landscape. By carefully manipulating dimension, the artist aligns the reader's sympathies with her character. Throughout the book we identify with Sophie and can therefore better empathize with her situation.

Now you tell me, in this illustration from David Wiesner's Tuesday (1991) are we meant to identify with the people who inhabit the town or the town's mysterious night time visitors?


Image Link

Scale is similar to dimension but it is intrinsic to the picture itself rather than relying on the reader as viewer. Scale can simply let us know the size of one object relative to another as is the case in this picture from Wiesner's June 29, 1999:

Image Link

And scale can sometimes make you smile:


From David Shannon's Duck on a Bike (2002) Image Link

Alternatively, scale can convey the emotional crux of a situation. Take for example the day Willy the Wimp accidentally bumps into Hugh:


From Anthony Browne's Willy and Hugh (1991)Image Link

______________________________________

In regaling you with examples of how the 11 design principles work in picture books, it was my hope that you would see how smart illustrations, when combined with visual literacy skills on the part of the reader, can contribute to the overall experience of reading a book. Do I kid myself that my daughter sees all this when she is looking at books?

No. Not for a second. But she does see a lot of things in illustrations that I don't catch right off. We also spend a lot of time talking about the pictures in her books in an effort to tease out both our ways of seeing. Books that are flatly illustrated don't allow us to open up the conversation. They don't influence our mood or emotions as we are reading. The really good books do, though, and each time I come back to those books to figure out why, the answer is usually right there in front of me in their finely crafted illustrations.

________________________________

OK, you all need a break from this so I won't post again in this series for at least a week if not longer. Truth be told, I need a bit of a break too. This was some hard work finding all those pictures and then making them fit my big picture. Next up, I'll be savouring the flavour of words. Mmmmmm, tasty words.